HMG works with companies in Australia and Asia Pacific to improve the uptime of their heavy equipment and machinery.
HMG started life as a small surface finishing shop in 1959. Today, we are a global leader in the design, manufacture and refurbishment of components and assemblies used in heavy industries. With 9,700m2 of under cover workshop floor space, our capabilities span engineering and manufacturing, blasting, stripping and inspection, surface finishing, assembly and testing, and painting and packing.
HMG makes things to last. We rely on business practices and work methods honed over more than 50 years to deliver products and services of superior quality. We increase the productivity, performance and profits of leaders across mining, oil and gas, energy, defence, construction, shipping, lift and shift, transport and agriculture by reducing their downtime and maintenance costs.
Our experienced services include:
At the heart of our success is our people. We share an enduring commitment to lead our industry and set higher standards.
Our history is proof of our excellence. Over 60 years of delivering products and services of superior quality.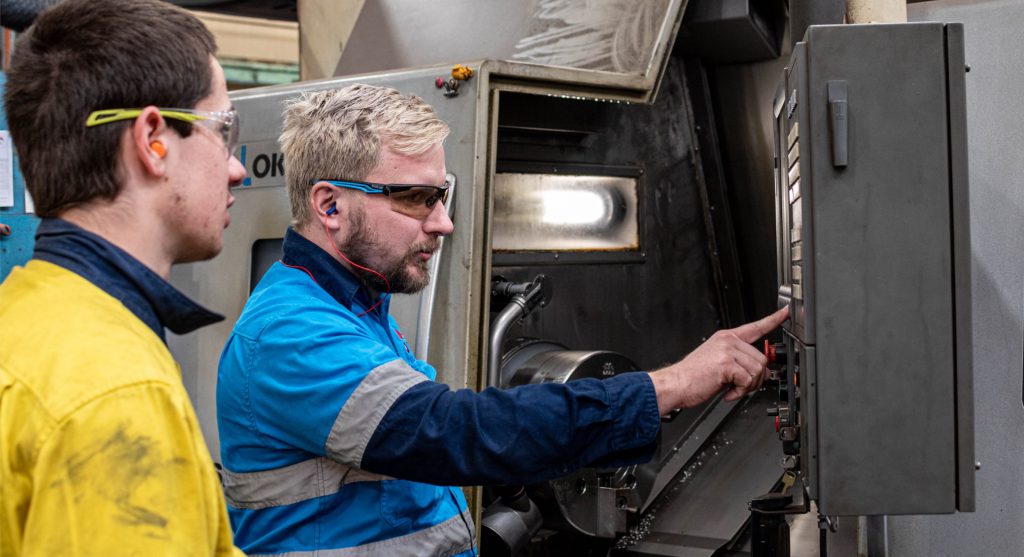 Our average employment is 16 years because we strive to create a workplace that is friendly, interesting, and safe.
With our ISO certifications, our processes and knowledge underpin our approach to deliver high quality products efficiently and effectively.
HMG offers door-to-door freight capability throughout the Asia Pacific region.
HMG's geographical footprint is now expanding as more and more companies from our region call on our advanced capabilities to reduce their downtime and maintenance costs. We service companies in every state and territory in Australia as well as Papua New Guinea, Indonesia and New Zealand.
Our in-depth understanding of all modes of intercontinental transport including road and rail, airfreight and seafreight ensures parts are delivered to and from some of the world's most remote sites in the safest, fastest and most cost-effective way possible.
Shipments are planned and controlled according to industry best practice to allow up-to-the-minute monitoring and tracking of your consignment.
We also rely on the appropriate expertise to manage the smooth clearance of shipments through various customs and quarantine barriers around the world. We are highly experienced in managing all aspects of regulatory and customs compliance including tariff advice, classification and valuation advice.
From repairing old to manufacturing new, our in-shop capabilities are comprehensive and unparalleled.
Our large facility, state of the art machinery and over 100 employees with expert experience means HMG is equipped and ready to assist your business needs.
Trusted for over 50 years